Woodhurst Parish Council

Vacancy for Parish Clerk and Responsible Financial Officer to Woodhurst Parish Council.
This is a part-time appointment, around 3-4 hours a week, including evening meetings
(usually seven per annum).
Ideally candidates should have relevant qualifications
e.g. Certificate in Local Council Administration,
but training will be arranged for a suitable candidate.
Remuneration will start at £1,650 per annum (reviewed annually)
and be based on qualifications and experience in accordance with NJC guidelines.
Those interested in more information, or to apply, should contact below:
Cllr  Alistair Marr,
c/o Woodhurst Parish Council
Manor Farm, Woodhurst,
Huntingdon, Cambs. PE28 3BN
apmarr26@gmail.com
The closing date for applications is 10th April, 2015.
Interviews will be arranged at a mutually convenient time shortly afterwards.
The scheduled commencement date will be in May, 2015 t.b.a.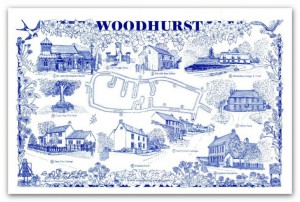 We are pleased to offer for sale Woodhurst Tea Towels. They are available in either Blue or Green and are priced at £4.99 each. They are available from Fullards Farm (please ring 01487 824356 before travelling) or at all Village Events including the church advent fair, bar nights, etc.
Customers wishing to order by post should send a cheque, payable to Woodhurst Village Hall, to
Fullards Farm,
South Street,
Woodhurst,
Cambridgeshire,
PE28 3BW
Please add £1 to cover post and packing and indicate which colour you require. Please allow 28 days for delivery
Amazon Adverts
If you visit Amazon by clicking the adverts on this site, Amazon will give around 5% of whatever you spend there, which will be donated to the St John the Baptist Church in Woodhurst